Eflyn provides indoor and outdoor interactive digital displays, self-ordering kiosks for restaurants and retail stores, LED and Video wall solutions and a variety of other custom design kiosks.
Eflyn also offers a variety of applications such as digital spin-to-win, social photobooth Apps, digital building tenants directory including turn by turn wayfinding system. Eflyn also offers a fully dynamic application for restaurants and retailers to sell their products on a self-ordering kiosk. Eflyn also provides a full solution including full pin-pad programming and configuration on all types of self-ordering kiosks.
When you visit our state of the art showroom in Mississauga, you'll find a comfortable place where you will be able to touch, feel our interactive kiosks and video walls, ask questions and even play around with various apps and e-commerce demos
Digital engagement has never been this easy. Explore our family of
Powerful hardware and intelligent software solutions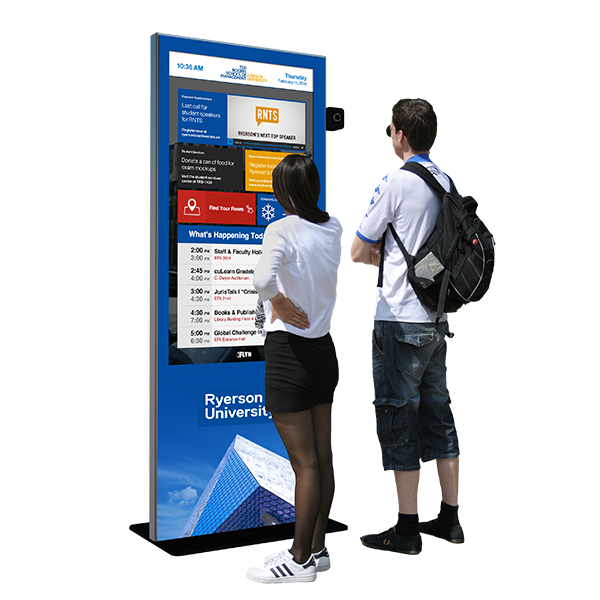 Eflyn Touch Screen Kiosk
with Wayfinding System
at Ryerson University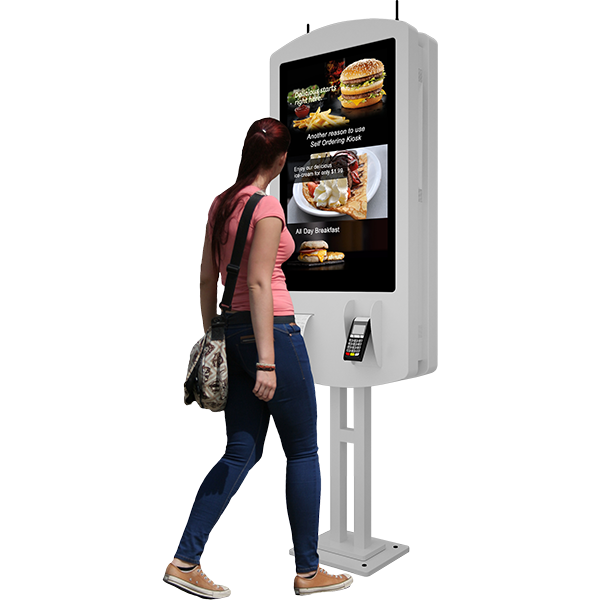 Self-Ordering Kiosks at
Galitos Chicken, Food Court
York University Student Centre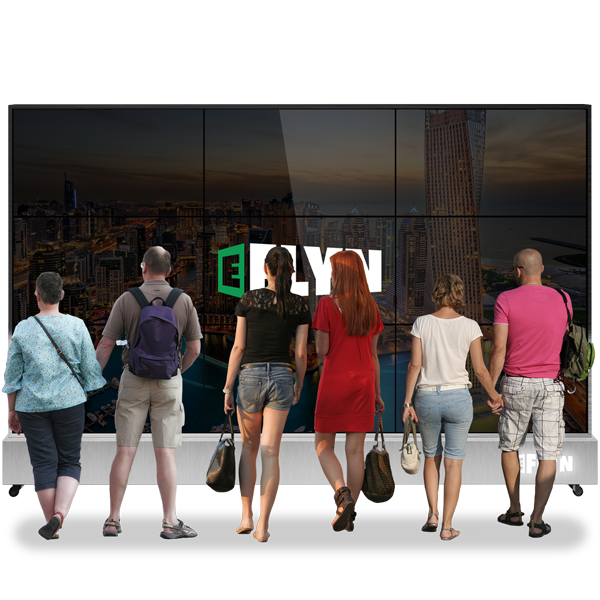 Eflyn Portable Video Wall
at Restaurant Canada
Tradeshow/Exhibition
All you need to expand your business
Eflyn can build an end-to-end solution for your business that combines powerful hardware and interactive software to create a unified experience for your customer.
Our hardware is battle-tested to ensure 99% up-time and built tough for public use.
View Eflyn Hardware Gallery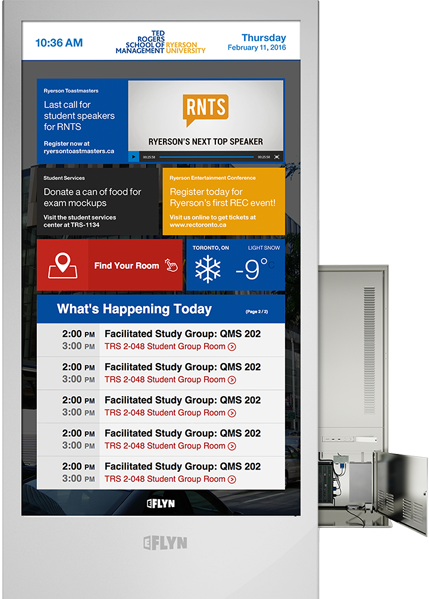 Trusted by 100s of Businesses
Eflyn kiosks help me manage marketing posters of all Eyestar locations from my laptop. It really helps save us time and money. They look great too!
- Michael C., Eyestar Optical
We purchased Eflyn Touch Kiosks recently and although we're based in Vancouver the delivery was flawless, service was excellent and we are very happy with the product.
- Chase M., Smak
Our restaurants have been using Eflyn Kiosks for about a year now and the response from our customers has been overwhelmingly positive. We also take advantage of Eflyn's Photobooth app, which our guests love.
- Shraey G., Tandoori Flame Restaurants
WHY EFLYN KIOSKS?
Increase brand engagement and customer loyalty where your customers are with interactive kiosk and digital signage solutions.
Self-Ordering Kiosk
Self-ordering and Self Payment Kiosk is the future of restaurant, fast food chains and retailers. With companies like McDonald's and Wal-Mart taking a fast lead with self-ordering and self-payment solutions, it's only a matter of time before we see mass-market adoption of these new technologies
Free-standing or Wall-mounted
Our display solutions are available in both a free-standing mobile format as well as wall-mounted enclosures.
Built-in Digital Signage Manager
Every kiosk comes with Eflyn digital signage software pre-installed. Start running your posters and videos on your screen right out of the box.
Custom App Development
With over 15 years of software development experience, our team can help you build the perfect kiosk app for your needs.
Lead Generating Games & Applications
We know the pulse of your consumers. Eflyn Kiosks Applications & Softwares help businesses collect their customers and guest data such as email and names. Such as Eflyn's Spin to win, Match Game and Facebook Photobooth App. Please ask us about our lead capture apps designed for all types of touch screen interactive kiosks.
Built for 24/7/365 Commercial Use
Eflyn displays are designed with commercial use in-mind, utilizing an industry-grade enclosure and 24/7/365 LCD displays.
Microsoft Windows 10
No more finicky media players or ancient operating systems. All Eflyn hardware runs on Microsoft Windows 10, fully-licensed and up-to-date.
Plug 'N' Play
Eflyn hardware is fully integrated and includes built-in Wi-Fi. Your kiosk is ready-to-use out of the box, just plug it in and you're ready to go!
Meet with an Eflyn Specialist
Bring the power of digital engagement to your business
Want to learn about digital signage? How about self-serve kiosks or setting up your own video wall? Learn from one of our digital engagement experts about the latest in interactive display technologies and software.