21.5″ Floor Standing Interactive Capacitive Multitouch Kiosk with Brochures and Pamphlets Holder
Available in Windows 10 or Android, 4 Pockets Catalog, Brochure or Flyer Holder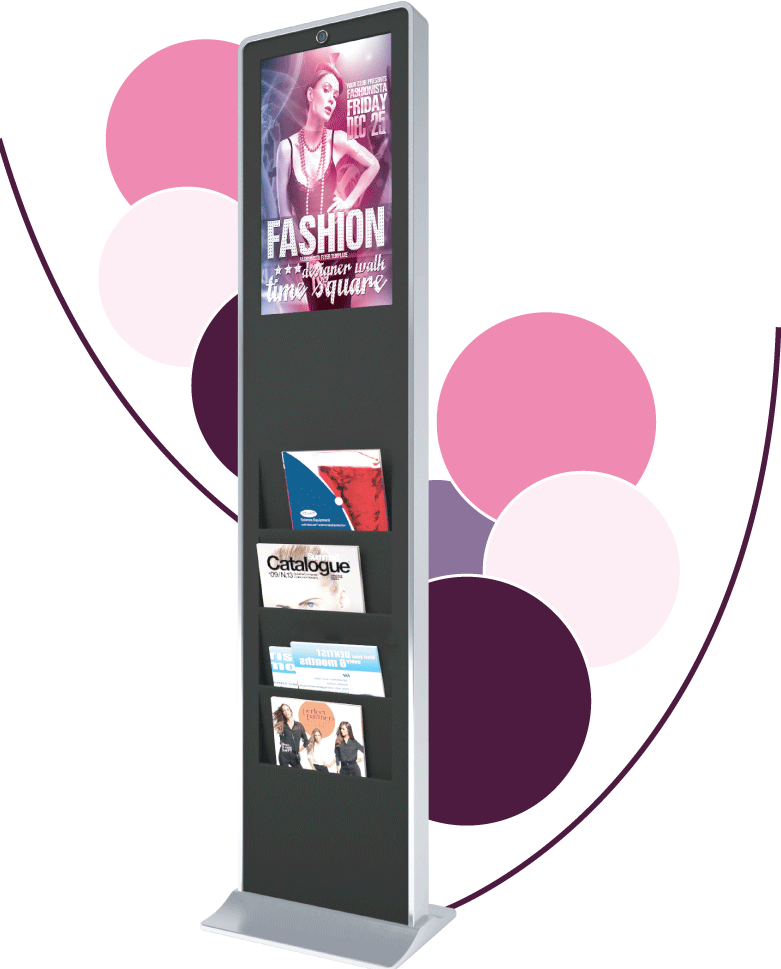 The Future of Sales and Marketing Presentation
Present your marketing material digitally and also encourage your customers to pick up your marketing material in a smarter way.
Eflyn 21.5″ Floor Standing Interactive Multitouch Kiosk comes with 4 pockets holder for your catalog, brochures, and pamphlets.


Lightweight, Portable & Durable
The 21.5" Catalogue Kiosk is the lightest in Eflyn's line of floor standing kiosks, it can be lifted and carried by a single individual. It's not only light and portable but durable and dependable.
The main function of this kiosk is to operate as a touch screen interactive freestanding kiosk and be useful in other ways like entertaining and informing customers and guests through print materials.
Compact and Impactful
What is small and powerful you ask? Our 21.5" Floor Standing Interactive Digital Signage Kiosk is indeed small compared to our other free standing digital signage but Believe it or not it has the same performance capabilities as our biggest freestanding kiosk. Now that's impressive!
At Eflyn, we believe in applying the best of our engineering to all of our line of products regardless of size, weight and popularity.

Remotely Manage Your Contents
Pair it with E-Suite and you will be able to manage your content whenever you wish. E Suite is Eflyn's state of the art contents management system for all kinds of digital signage. Whether it be information or visuals, you'll be able to instantly add, change, edit and update your content on to the digital signage like magic. Simple and easy to use, all it requires is an internet connection.



Catalogue Kiosk Features
Our 21.5" Catalogue Kiosk is one of a kind, because of its distinct feature of not being used for only digital purposes.
The Catalogue Kiosk's features are:

21.5" Capacitive Touch Screen
Steel reinforced casing
4 Pockets for print materials (magazines, brochures, cards, pamphlets, flyers, etc.)
Slim, Portable, and Lightweight
Camera Mountable (optional)
Stable and sturdy base
Eflyn's Applications
 Spin To Win
Quick Match
Socialbooth Pro
Easyfind Pro
Custom Apps
Digital Signage

Size & Specifications
Height:: 1500mm
Width:: 350mm
Side: 290mm
Processor: Intel i3
Operating System: Windows 10 Pro
Display: 21.5" TFT LCD Display
Resolution: Full HD 1080 x 1920 (Portrait/Vertical)
Wifi: YES
Contrast Ratio: 4000:1
Brightness: 450 cd/m2
Hard Drive: 128 GB SSD Solid State Hard Drive
Memory: 8GB
Audio Support : Stereo Audio Out
Communication: Wifi and Ethernet
Bluetooth: Yes
Slots/Ports: USB, HDMI


Meet with an Eflyn Specialist
Bring the power of digital engagement to your business
Want to learn about digital signage? How about self-serve kiosks or setting up your own video wall? Learn from one of our digital engagement experts about the latest in interactive display technologies and software.