Eflyn Self Ordering Kiosks for Fast Food Restaurant and QSR
Increase Revenue, Increase Order Check Size, Improve Order Accuracy, Improve customer satisfaction and ease of use with Eflyn Self Order Kiosks and POS system.
Contact us today to seamlessly integrate contactless payment using Eflyn Self Order Kiosks End To End Solution. Enable your patrons to place an order, and pay without the need for any human contact.
Self service ordering kiosk is cheap!
A complete self order kiosk solution costs less than $20 a day. It serves your customers 16 to 24 hours a day 365 days a year with no sick leave, no vacation, and bringing more sales to your business with up-sells, pairing recommendations, and even collect tips on behalf of your staff. With the slim margins that restaurants operate with today, a competitive price is essential to success!
Eflyn Restaurant & QSR Self Order Kiosk will increase your sales
Self service kiosk in a fast food restaurant screams speed. Anyone coming into a fast food restaurant isn't planning to be there for more than 20-30 minutes. A quick and easy-to-use self serving kiosk will make sure you don't have any grumpy customers anymore.
Spin To Win Contest Marketing App for Restaurants and QSR generate thousands of email leads. This is now part of our point of sales system on all our self order kiosks platforms.
Spin To Win is a fully customizable contest generator that lets you create, manage, and run competitions and giveaways on your self order kiosk. Reach customers in a fun and unique way with Spin the wheel ready-to-play on Eflyn Self Ordering Kiosks.
People recommend brands that offer giveaways.
Capture user data like names, e-mail, phone and more
People who enter competitions share content from brands
Pay at Table
Your customers can now conveniently pay at the table! Here's how it works with the Eflyn ePOS system
– Generate a QR sticker of your restaurant's unique ordering link using the Eflyn POS system
– Stick the QR code on each table in your restaurant
– Customer scan the QR Code on their phones and a self order kiosk interface with your menu items will be opened
– Customer can browse through the self order interface and once they select the food that they would like to order they can make the payment using Apple Pay, Google Pay or any other credit card
– The prepaid order will be sent to the kitchen KDS and on the order status monitor customer can see the order is being made
– Once the kitchen staff finished preparing the order they will tap on the KDS that the order is finished and the customer status monitor will update the order status as DONE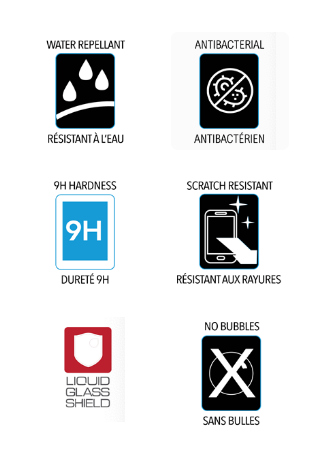 Protective Screen Coating
All new Eflyn Self Order Kiosks come coated with the world's best anti-bacterial screen care solution. This preventative solution is also water-repellant, anti-radiation, scratch resistant rated for 9H hardness, and does not cause any bubbles on the screen. It protects the screen for up to 1 year after application and can be reapplied at anytime.
High Performance Computer
The 2020 Self Order kiosk is built with up-to-date components including the latest SSD drives, Intel i5 Processors, and faster memory.
The higher performance leads to more fluid and responsive customer experience, especially for self-order kiosks with lots of images and videos.
The PC is also removable, making it quick and easy to swap out if it ever has problems.

High Brightness Screen
A new 1000 nits high brightness screen gives more life to the self order experience.
700 nits
full-screen sustained brightness
1000 nits
peak brightness
KIOSK ORDERING SYSTEM IS ACCURATE
How many times have you had to dump an order because the server made a mistake? Self Order Machines don't make mistakes! A kiosk ordering system will ensure that this never happens again, making both, you and your customer happy.
The kiosk ordering system increases aesthetic appeal!
Let's face it, a fully automated fast food ordering kiosk looks really cool. With restaurants spending thousands of dollars on their interiors and aesthetic appeal, a self ordering kiosk will help in differentiating your restaurant from most other restaurants. With a built-in digital signage application, you can now run your promotions and posters at any time of the day. Eflyn Restaurant Kiosks Systems is a complete end to end solution and increase your restaurant aesthetic appeal. A rapid increase in the millennial generation, self service kiosk pos system may just become your unique selling point.
RGB Lighting
Compliment your brand strategy with RGB lighting options for your Self Ordering Kiosks. Supports seven colors and makes your kiosks shine in any retail or restaurant setting.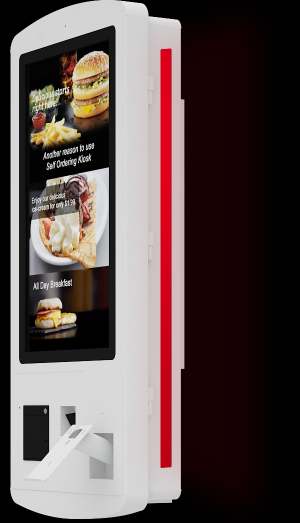 Self Order is Convenient!
Customers like good experiences. A self serving system provides the convenience of making sure you place the right order and avoids the inconvenience that language or personality differences can create.
On the other hand, a restaurant kiosk systems makes the entire process of collecting, processing, and delivering orders much more coherent and organized for the restaurant, and this will naturally lead to a better and less stressful functioning of the restaurant.
A self ordering kiosk system is now an unavoidable asset for a fast food and QSR restaurant since it helps the customers as well as the owners. There is absolutely no reason as to why a restaurant should not consider investing in a restaurant kiosk ordering system.

Universal Pin
Pad Mount
Mount any type of payment terminal with our new universal pinpad mount. Supports popular pinpad models such as the Ingenico iPP320/350, Verifone MX-series, TD Generation Pinpads, and many more.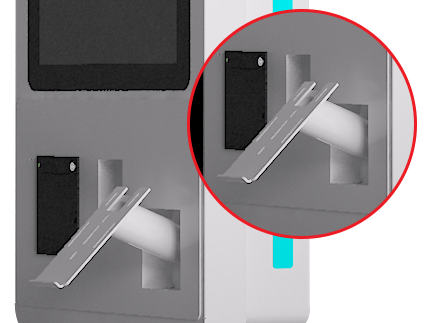 HD Camera
Built-In
Utilize the built-in HD camera to capture essential user metrics, recognize faces and deliver a more customized and personalized self-order experience than ever before.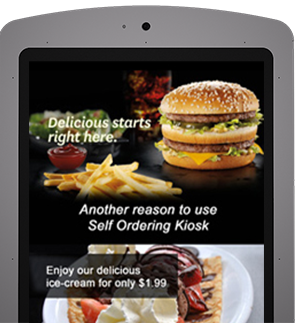 Built-in UPS for Safe Operation and Shutdown during Power Failure

Built-in UPS will give the kiosk a continuous 20 minutes of runtime during a power failure so customers ordering can complete their last transaction. Afterwards the UPS will initiate a safe shutdown of the PC to safeguard components from damage.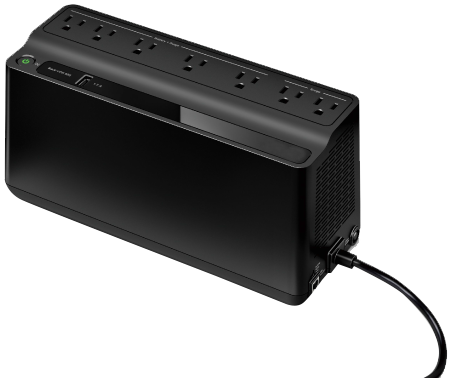 Quick Release
Hinge
Easily replace the entire self-order kiosk screen with quick release hinges. Helps to reduces servicing costs by allowing a single person to swap out damaged screens.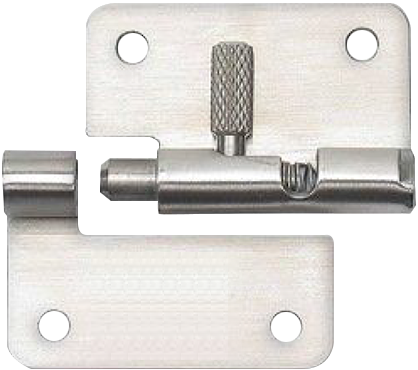 Self Order Restaurant will help you focus on other things!
Restaurants are, quite often, paralyzed on busy days just because half of the stuff has to deal with taking orders and organizing them. A self service food ordering system allows restaurant staff to focus on expediting and delivering food, instead of being bogged down by engaging a significant amount of manpower to deal with the sheer number of customers trying to place an order. A self service food ordering system will hence, not only increase customer satisfaction but will also make sure employees aren't overworked.
High Performance Laser Barcode Scanner

Now the Eflyn Self Order supports more barcode types than ever with our newest 2D/3D laser barcode scanner from Honeywell. Includes support for scanning Ontario Licenses as well!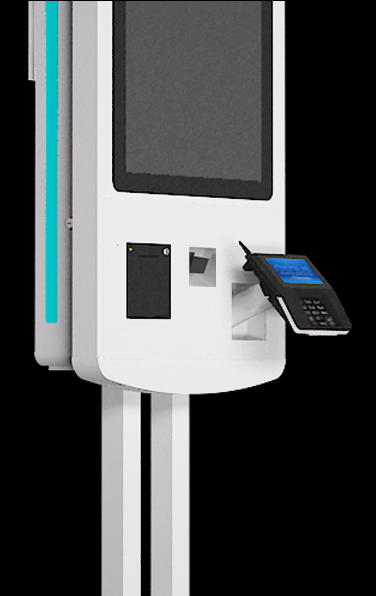 Size Specification of 32" Single Sided Touch Screen Ordering Kiosks
Height: 75.3 inches (1912.2mm)
Width: 21.4 inches (544 mm)
Depth: 6 inches (152.5 mm)
Weight: 100 Kgs (220 lbs)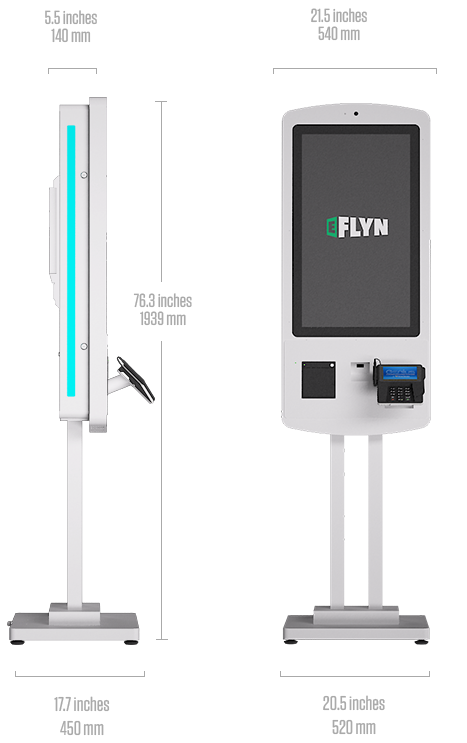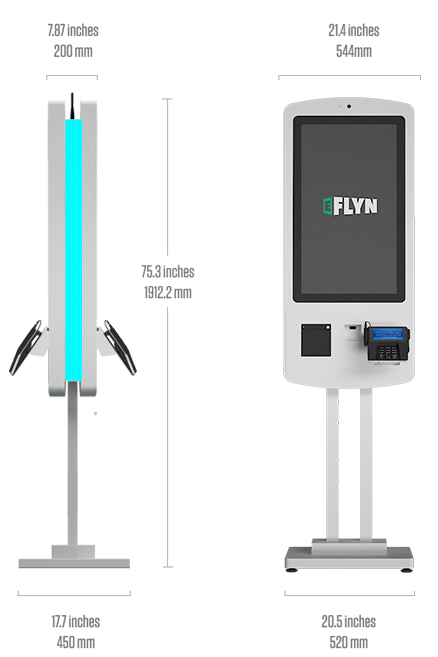 Size Specification of 32" Double Sided Touch Screen Ordering Kiosks
Height: 75.3 inches (1912.2mm)
Width: 21.4 inches (544 mm)
Depth: 7.87 inches (200mm)
Weight: 160 Kgs (353 lbs)

Meet with an Eflyn Specialist
Bring the power of digital engagement to your business
Want to learn about digital signage? How about self-serve kiosks or setting up your own video wall? Learn from one of our digital engagement experts about the latest in interactive display technologies and software.