Self Ordering Kiosks for Restaurants and Retailers
Single or Double Sided Touch Screen Ordering Kiosks

FRONT LOADING PRINTER
Eflyn Self Ordering Kiosks come with the fastest and most reliable front loading printer on the market. With the convenience of a front opening, your staff can change the receipt paper with a simple flip of a key.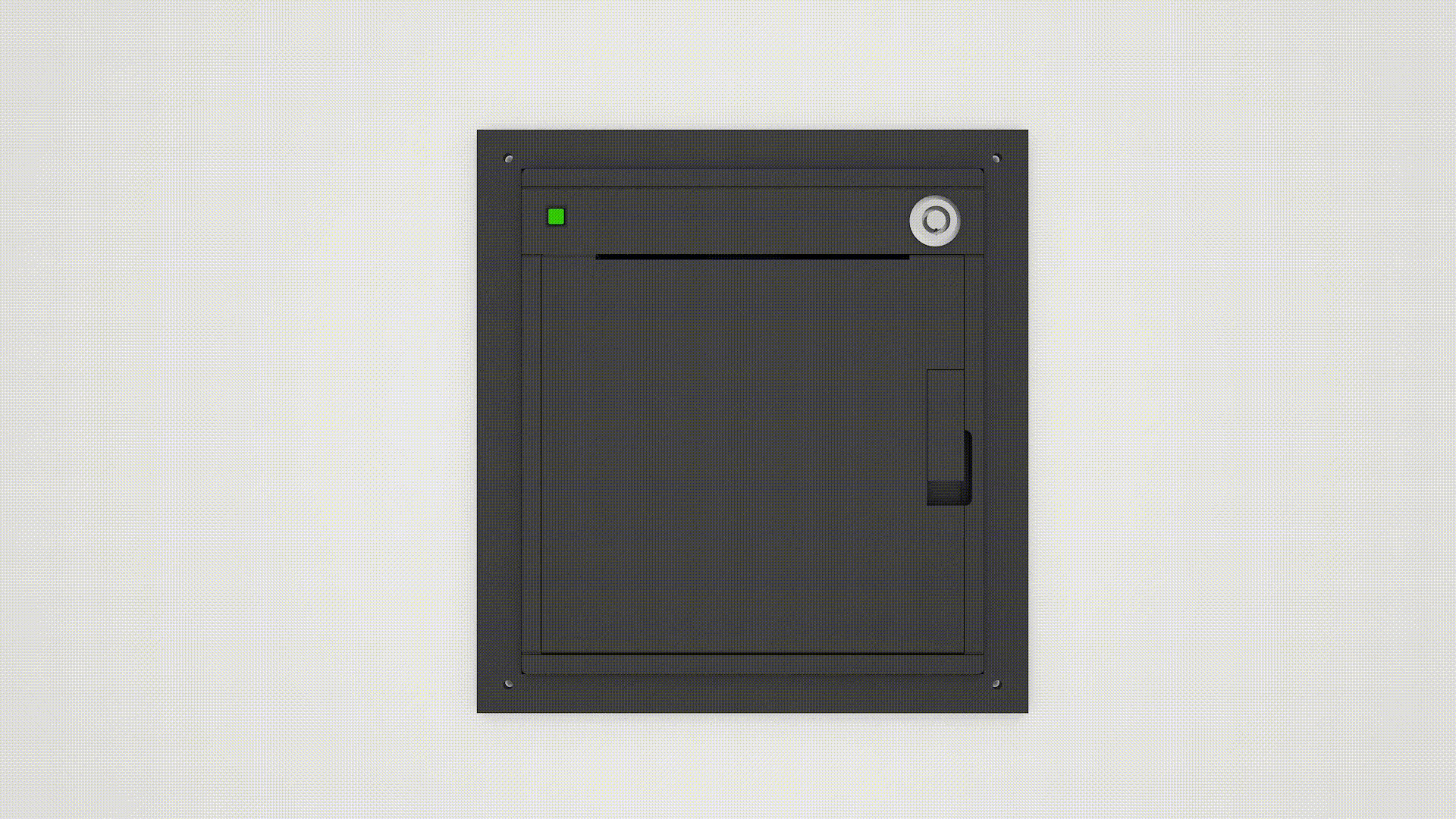 SELF ORDERING KIOSKS, A COMPLETE SOLUTION
Eflyn Self Ordering Kiosks give you the power to customize the entire service experience from start to finish. With our easy-to-use interface and countless personalization options, you can seamlessly integrate the Self Ordering Kiosk into your business.


Empower Your Patrons with Self Ordering Kiosks.
Say hello to the most powerful self-order kiosk software available today.
LEARN ABOUT THE SYSTEM
The First Mass-Market Self Ordering Kiosk Is Here.
Self Ordering Kiosks are quickly becoming vital to the success of countless retailers, restaurants and franchises. With companies like McDonalds and Walmart leading this change, it is no surprise that a mass-market adoption of these technologies is happening right now.
Eflyn has been working tirelessly for over 5 years to build the fastest, most reliable and easy-to-use Self Ordering Kiosk system and we are proud to say that it is now available for the first time ever. Designed from the ground-up with existing clients in mind, our latest Self Ordering Kiosk has everything you need to advertise, service your customers, collect leads and take payments. Contact us today to discuss customization options and learn more about why Eflyn is the leader in Self Ordering Kiosk technology.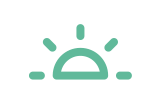 High-Brightness 24/7 Displays

Free-standing or Wall-mounted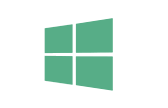 Window10 PC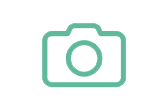 Built-in Camera

Capactive Touch Display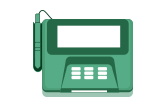 Universal Payment Terminal Holder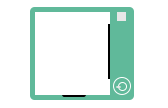 Front Loading Printer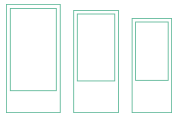 Available in a Variety of Sizes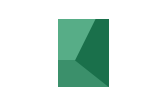 High Speed 2d/3d Scanner
Free Standing Design
The Eflyn Difference.
Boost Your Revenue
Eflyn kiosk-specific order flows maximize the value of every order. It speeds up the ordering process and give your patrons more choice and control. This is why Eflyn Self Ordering Kiosks clients see an immediate increase in the order value as high as 25% greater than orders placed with a cashier.
Smooth Ordering for All Your Guests
Eflyn with their vast experience in consumer based interfacing has designed the restaurant self ordering kiosk touch screen interface with the customer in mind, it's quick and easy to use and end-users that gives a unique smooth ordering for your patrons.
Platform Independent Model
Eflyn restaurant menu application is platform independent, so no matter what POS you are using our application model works. For more detail and demonstration please contact our team.
Technical Service Desk
At Eflyn, our business is technology, so we fully understand the need to support our restaurant kiosk with management and technical expertise, scalability and advanced call management systems wherever and whenever you need it. Our customer support team is ready to help by online chat, email and telephone 24/7.
Smart Restaurant Technology
Eflyn "SMART RESTAURANT TECHNOLOGY" feature pull data like gender, age and facial expression to determine mood before making order suggestions. This is a very useful tool which will help restaurant and franchise owners with valuable insights of their ordering system.
Cloud Reporting and Analytics
With Eflyn Self Ordering Kiosks system you will get real-time cloud reporting and analytics. Our reporting dashboard will help you visualize kiosk performance in real-time.

Ready for Any Space
Maximize Service.
Minimize Floor Space.
At EFLYN we recognize that our business has an impact on retail environment, in particular people's purchasing conditions, as well as the environment. Attention is drawn to the aesthetic appeal, public safety and easy user experience. Our kiosks come with round edges and corners, electrical code compliance components, industrial grade components, tempered glass and safe mounting holes and covers.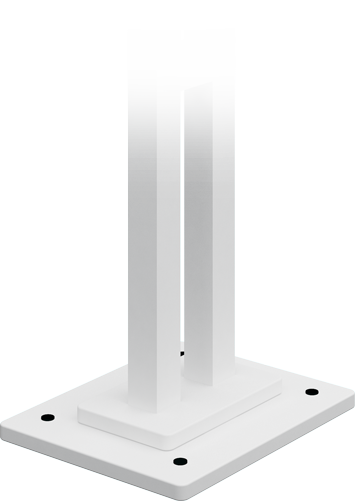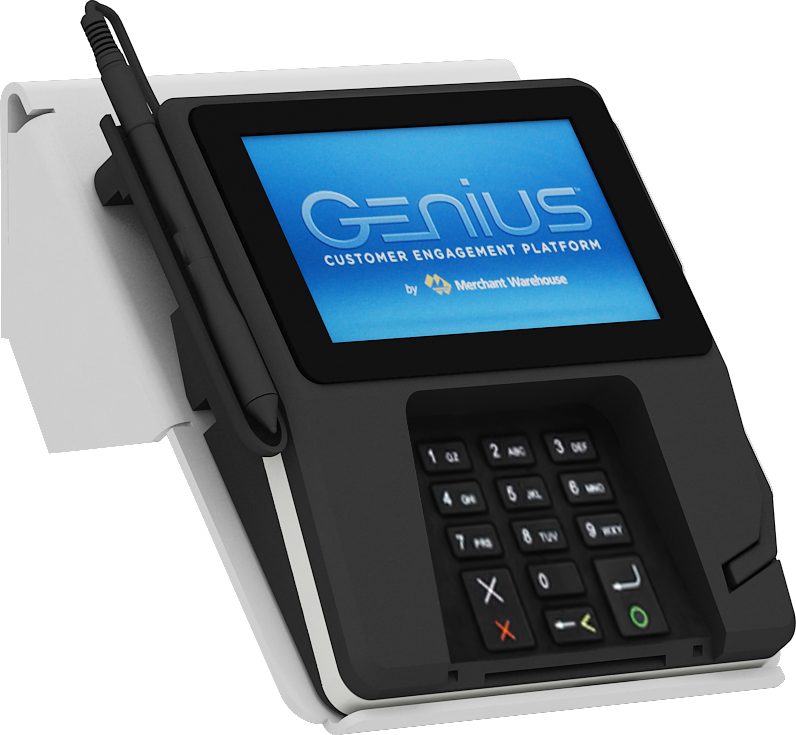 PINPAD SUPPORT
All our self ordering kiosks comes with a universal payment terminal holder. The holders are designed to fit any point of sale terminal whether you are using Pax, Ingenico, Veriphone or Datesc. This not only save you from the hassle of buying 3rd party, unmatched plastic and bulky terminal holders.

Dual-screen Enabled
Single or Double Capacitive Multi-touch Displays.
With both single sided and double-sided options, you can configure your self service kiosk to be the most effective. The single-sided option is perfect for small locations with limited space. The double-sided option gives customers at medium-to-high traffic locations multiple opportunities to use the kiosk.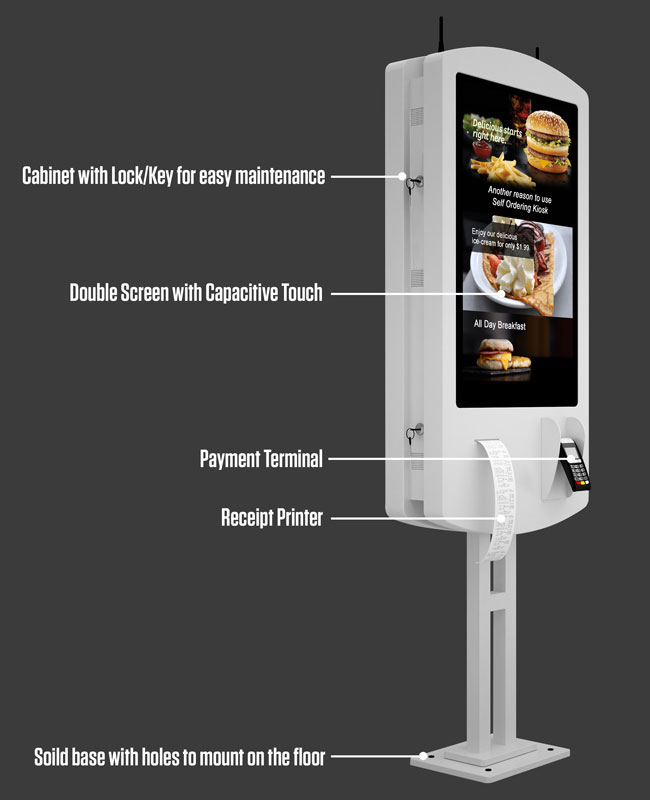 Digital Content Management
Everything You Need for Automating Service and Payments.
Eflyn manufactures interactive touch screen ordering kiosks with latest automated technology for fast-food outlets and restaurants.
Bringing a breakthrough in food industry by automating the POS (point of sale) with their self service touch screen terminals.
Finding new ways to order and payment system by passing long line ups at the cashier.
Built for 24/7/365 Commercial Use
Secured for Public Use.
Type: Self-Ordering Kiosk
Size: Single / Double Sided 32" Screen
Touch Type: 10 Point Capacitive Touch
Cabinets: Fully Secured with Key/Lock
Printer: Receipt Printer
PC: Single / Double Intel 2.6 Ghz 8GB RAM, 500GB Hard Drive
OS: Windows 10.1
Wifi: 802.11ac, 802.11n, and G
Bluetooth: YES
Installation: Freestanding, Secured Floor-mounted
Software: Eflyn Self Ordering System with food management system
Training: Full Training will be provided
Warranty: 1 year.
Extended Warranty: Available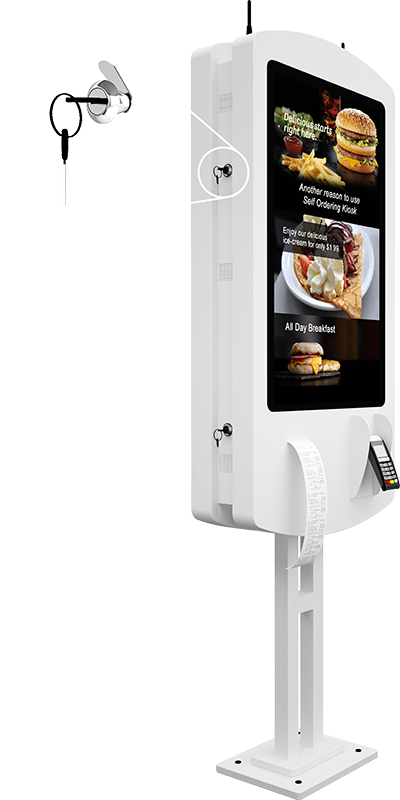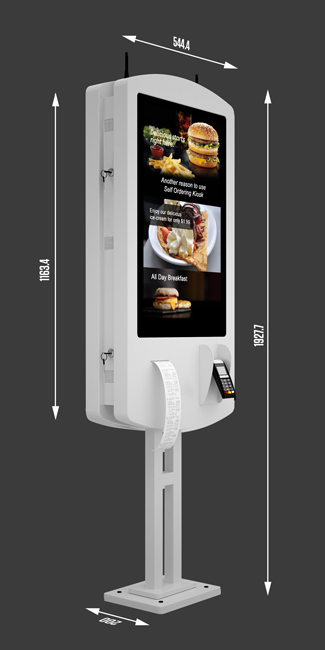 Self Ordering Kiosk Design
Designed to fit elegantly in any restaurant space.
Over 3 years of research and development has gone into the design of the Eflyn Self Ordering Kiosk. Every detail has been meticulously reviewed to ensure that the entire system works flawlessly from day one.
The Self Ordering Kiosk can be installed anywhere. It's designed to elegantly assimilate into your restaurant, without expensive renovations or restructuring.
Size Specification of 32" Double Sided Touch Screen Ordering Kiosks
Height: 75.3 inches (1912.2mm)
Width: 21.4 inches (544 mm)
Depth: 7.87 inches (200mm)
Weight: 160 Kgs (353 lbs)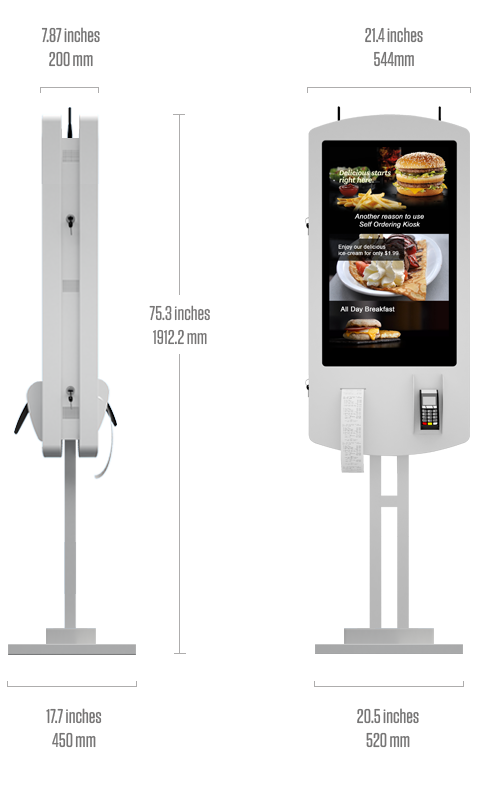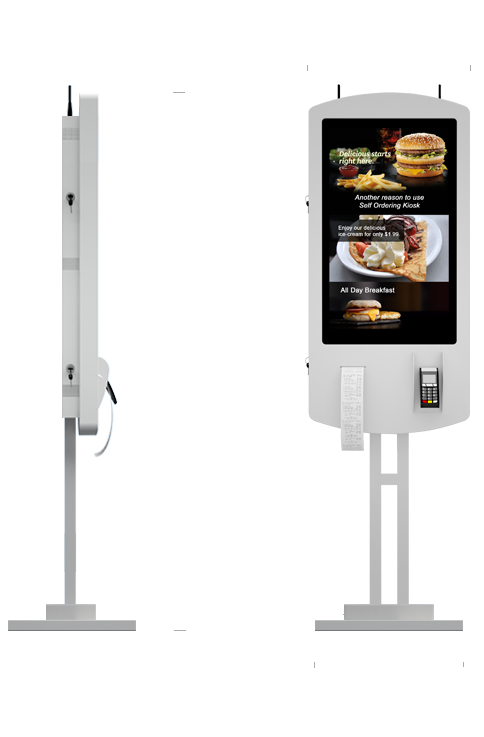 Size Specification of 32" Single Sided Touch Screen Ordering Kiosks
Height: 75.3 inches (1912.2mm)
Width: 21.4 inches (544 mm)
Depth: 6 inches (152.5 mm)
Weight: 100 Kgs (220 lbs)
A DIFFERENT LEVEL OF COGNITIVE DEVELOPMENT
CONTACT AN EFLYN PRODUCT SPECIALIST FOR CUSTOMIZATION OPTIONS AND A PERSONALIZED DESIGN PLAN
Eflyn Product Specialists are ready to work with you on finding the right solution for your business. From customization options, to delivery timelines, our Product Specialists know it all and are ready to help.
Want to see our technology in action? Book an appointment with an Eflyn Product Specialist to learn more or simply visit us at our Mississauga Showroom, Monday-Friday from 9:30AM-5PM. Directions to our Showroom can be found under "Contact Us"

Cassie Wall Mountable Self Ordering Kiosk with Capacitive Touch and Front Paper Loading Printer, available in 21.5" and 32" screen sizes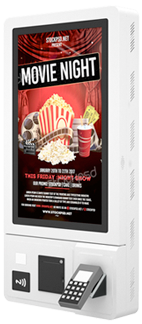 Entasis Self Ordering Kiosk with Capacitive Touch, available in 32", 43" and 49" screen sizes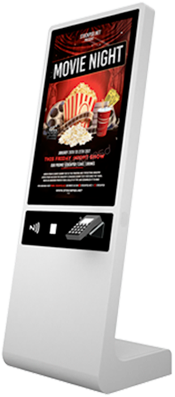 Canon Self Ordering Kiosk with Capactive Touch, available in 32", screen size,double or single sided



Meet with an Eflyn Specialist
Bring the power of digital engagement to your business
Want to learn about digital signage? How about self-serve kiosks or setting up your own video wall? Learn from one of our digital engagement experts about the latest in interactive display technologies and software.